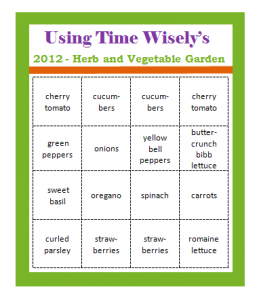 My garden missed me while I was on vacation because it was a wild mess when we returned. I had some help, but I lost some plants. Oh well, it was toward the end of the season, and I am learning.
With our garden thriving at the end of July and off for a couple of weeks, our garden produced and looked like this at the end of August:
Strawberries
Our 4 plants produced 27 strawberries during the heat of August. Though we did not munch on half of them, we blessed our neighbors as they harvested our garden while we were on vacation.
The bugs and/or birds are still eating our fruit. Some of our strawberries have chunks missing, but the net is still in place. I haven't found anything eating at the plant, but something is enjoying our sweet fruit.
Tomatoes
With 40 ripe cherry tomatoes, our plants continue to produce. Currently, the plants are covered with green tomatoes just waiting to ripen.
In pruning our plants, I knocked off over 50 green tomatoes as I unstuck the vines from the net. It was amazing how overgrown the garden got during our time away.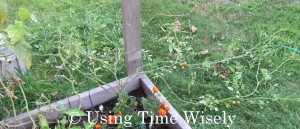 Cucumbers
Something is harming my cucumber plants. The leaves are wilting, so I'm not sure if it is a bug or just the heat. In spite of the setback, our two plants yielded 11 cucumbers.
Of all the items growing in our garden, the cucumbers are my favorite. They continue to amaze me!
Lettuce
Oops! My pruning in August resulted in killing all my lettuce plants. I am assuming it was my pruning – though I understand that lettuce does not like heat. Well, the temperatures soared above 100 degrees here in South Carolina, so it could have been a combination of the heat and my pruning. I'll learn from this mistake for next year.
Peppers
Harvested the two green bell peppers, but one was almost red.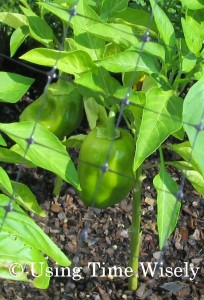 Our yellow pepper plant has little tiny buds, so maybe we'll see one this season. In our area, the peppers are taking longer than usual to produce.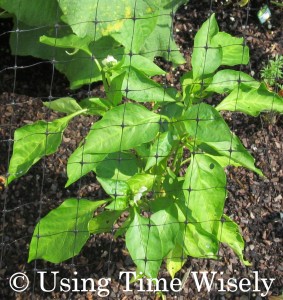 Carrots
Sprouting lots of green stalks above the ground, our carrots are growing.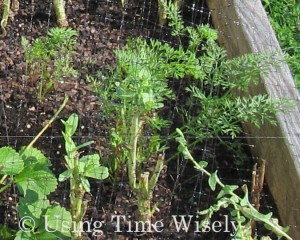 Onions
More green shoots have emerged from our onions. Yeah, they are growing well.
Herbs
After snipping more parsley, basil, and oregano, I dried and stored these herbs for gifts and use this fall. These herbs just keep on growing, so I keep on drying.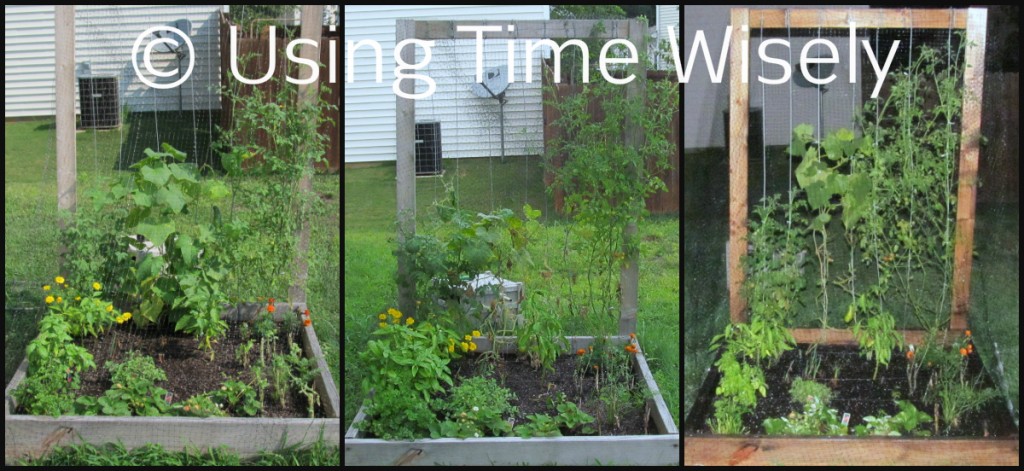 August 1                          August 20                    August 20
Our garden missed us while away on vacation, and I missed tending and caring for these fruits and vegetables. Though it hit its peak in July/August, I look forward to extending its season into the fall.
In using time wisely, our garden has provided extra fruits and vegetables, hours of activity, subjects of conversations, and lessons learned. Enjoying our gardening experiment, I encourage you to garden. You might not get it right the first time, but it's okay. I'm not 100% successful either, but the results are worth the investment. Happy experimenting!
Question: Are you planting a fall garden? If so, what are you planting?