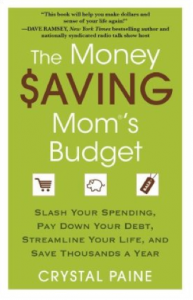 With the start of 2012, I am ready to plan my goals and be specific about saving resources to reach those goals. Slashing my grocery bill and stretching my dollars is great, but what is the goal – just to make it to the next paycheck? No way!
The choices you make now will decide your financial situation a year, 5 years, and 10 years from now. Whether your current situation is an out-of-work resume submitter or living debt-free with little expenses and a comfortable income, you are in control of your money.
Want to take that vacation, pay off that credit card, or buy that new tablet? Need some practical advice you can start in January to reach those goals?
Welcome, The Money Saving Mom's Budget, authored by Crystal Paine, who blogs to help you be a better home economist at MoneySavingMom.com.
If you are looking for a quick fix to your financial situation, then this book is NOT for you. The detailed process to get you in a better financial situation from January to December 31, 2012, will take focus, determination, and hard work.
The investment in your future will be time well spent, especially when you take that vacation, pay off that credit card, or buy that new tablet.
Your Road Map
The Money Saving Mom's Budget is your road map to get you from where you are today to your goal. When beginning a 7-hour trip, you do not read the map from the halfway point.
You start at the beginning and make it through to the first stop, and then you go ahead to the next stop. Before long, you have reached the halfway mark because you planned your destination, began your trip, and followed your road map. The trip takes time, but by moving forward city by city, you will reach your goal.
Your Chosen Exits
Breaking down your goal into increments will get you to that huge, near-impossible finish line. In using time wisely, The Money Saving Mom's Budget shows you the way and suggests a 12-month time frame to get you to your destination, exit by exit.
January – Set Big Goals and Break Them Down into Bite-sized Pieces

February – Streamline Your Life and Cut the Clutter

March, April, and May – Set up a Realistic, Workable Budget

June, July, and August – Take the Cash-only Challenge

September and October – Use Coupons

November – Never Pay Retail

December – Choose Contentment
Your Destination
This roadmap along with practical specific instructions to get you from start (January 2012) to finish (December 2012) is worth your money, energy, and time. Though I am battling the written budget and the cash-only scenario (since I do not like to carry cash), I am looking forward to following this course.
Though I have implemented most of the money-saving techniques (e.g., coupons for lowering my out-of-pocket expenses, my crock pot on busy days to avoid the fast food run, daily deal vouchers for entertainment and family fun, etc.) covered from September to December, I really need the January to May items to intentionally tell our money where to go.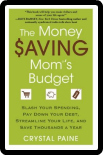 Are you ready to make some financial headway in 2012? Then preorder your copy of The Money Saving Mom's Budget for $11.09 (paperback) or $9.99 (Kindle) from Amazon.com (release date – Tuesday, January 10).
With focus, determination, and hard work, this financial investment can get you to your destination. In using time wisely, start 2012 in the right direction. Happy planning!
Note: This post contains affiliate links. For more details, please read my disclosure policy.
Question: What financial goal are you planning to reach in 2012? Please add your answer to the comments.