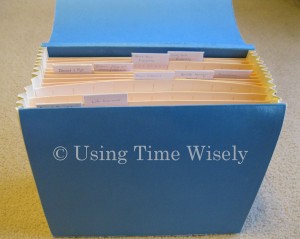 With many little categories in this insurance filing system, I hope you are making lots of headway on getting your paperwork organized.
Last week, I started the dental and vision insurance category with the dental documents, and today is the last post dedicated to this sixth category.
Vision Insurance Documents
The information about our vision coverage, eligibility, and cost resides in our 2012 Insurance Benefits Guide, housed in our major medical category. The documents held in this eighth file opening include:
1. Insurance cards (since I can print more cards by accessing our account via the Internet, I do not keep copies of these cards in the file.)
2. Savings summary from our provider
3. Provider's privacy practices
4. Correspondence from provider confirming activation of coverage
Since all these items came together in one mailing, I stapled these documents together. Keeping these documents in the same opening as our dental documents, I placed them behind the paper clipped group of dental paperwork.
Some of these file openings contain a few pages, and I find having the sections separated and labeled saves time and energy when needing the information contained within. As changes or other documents reach our home, I only need a few minutes to file those documents into the filing system.
Taking time to get the paperwork organized saves you time and energy for the long haul. In using time wisely, keep working. You will be glad you did. Happy organizing!
Question: How is your organizational system coming along?