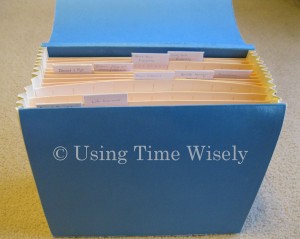 If you are just starting to organize your important documents, you may want to start at the beginning. This series began with Box 1, and today's post completes category 3 of Box 2.
Under the category of Major Medical, our summary page and identification card information resides in the fifth file opening of an accordion filing system.
The other items housed in this file slot are the benefits guide and correspondence.
Note: My filing system will look different from your system because our lives, policies, and documents are not the same. I share my organizational structure with you as a guide to organizing your documents. Please adjust this system to meet your needs.
Benefits Guide
This booklet (250+ pages) includes explanation of benefits, premium amounts, contact information, and an overview of the health plans and other benefits offered through my husband's employer. When I question our benefits, I consult this guide for the answer or the contact number for the department to ask.
Correspondence
If we receive any notices or changes to our major medical policy, I would add them to this file. At this time, I keep in this file our COBRA Initial Notification Memo. Should we ever lose our health insurance, this memo proves that our family is eligible for COBRA insurance.
In adding our Insurance Benefits Guide and correspondence to our file, our major medical category in Box 2 of our important insurance documents is complete. Keeping similar documents together with staples or paper clips makes retrieval quick and easy.
In using time wisely, I paper clip our documents and label the categories. Find a system that works for you, and stay consistent throughout your files. You'll be glad you did. Happy organizing!