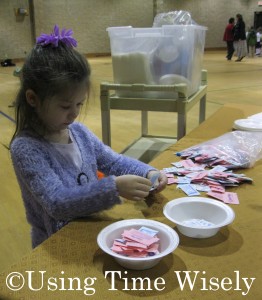 Growing up in a home where parties were the norm and not a rare occasion, I learned how to organize an event via on the job training. I can still remember arranging fruit and vegetables on trays, filling cups with ice, and counting plates and napkins. Those training sessions equipped me with skills I use today.
As I stay involved with many events, my children join in the process. By involving them and allowing them to help, I offer on the job training for event planning.
My oldest daughter loves to cook, clean, sort, and organize with me. Embracing her desire to help, I give her simple instructions, space to work, and time to complete the task.
Simple Instructions
While setting up for an open house, I received a request by my daughter to help. As I surveyed the tasks, I chose to give her the opportunity to place the pink and blue (Sweet n' Low and Equal) packets into one bowl and the white (sugar) packets into another bowl. After having her repeat the instructions back to me, I left her to work.
Space to Work
I went to the kitchen to bring out the trays of goodies. When I returned, I checked my daughter's work and praised her for continuing to sort.
Time to Complete the Task
Without rushing her, I gathered the other items and added them to a kitchen cart. When my daughter finished, we packed up the extra supplies and transferred the items from the cart to the table.
By giving my daughter simple instructions, space to work, and time to complete the task, she welcomed the praise she received for helping with the open house. What a joy to watch my daughter develop confidence by completing tasks alone!
As I continue assisting with events, I seek for ways to include on the job training while using time wisely. By teaching, demonstrating, and encouraging, I am providing opportunities for my children to develop, practice, and perfect their event planning skills.
If you have little ones close by that love to help while you are busy executing your plan, consider offering on the job training. You might save time with the extra help and nurture a special relationship in the process. Our little ones are watching and learning. They love the extra attention and opportunity to succeed alone. Happy training!
Questions: What tasks can you entrust to your child?