In serving on a parent committee at my son's school, I get to work with a fabulous group of ladies. We plan events and programs for our parents, teachers, staff, and students. Our planning sessions together are thorough, so we are all on the same page preparing for the next event.
For the Thanksgiving program performed by our students, our committee handled the details of the luncheon held on the last day of school before the Thanksgiving break. My part of the festivities included making tea and broccoli and cheese soup.
Gallons of Tea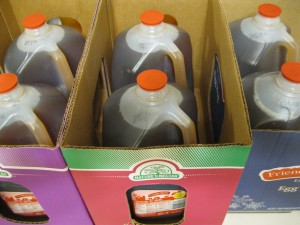 As the queen of tea making, I gladly offer to bring gallons for our events. For this Thanksgiving event, I brought 5 gallons of sweet tea and 1 gallon of unsweetened tea. At the end of the luncheon, there was not a drop of sweet tea left. I know because I went searching. The lemonade was also running low, so we had very thirsty participants. For the next event, I will adjust the amount and bring another 2 gallons of tea to be on the safe side.
Stock pot of Broccoli and Cheese Soup
In preparing for the luncheon, I made 5 batches of soup in rounds. I used two non-stick Dutch oven pots for the first two rounds. As I finished the soup, I poured it into my large stock pot. After making the fourth pot, my stock pot was filled. When I took the soup to school, I brought the filled stock pot and a full Dutch oven.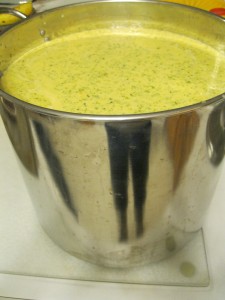 Though transporting the soup was uneventful, the heating of the soup proved to be difficult. The gas stove heated the pot quickly and burnt the bottom. Once the soup was stirred, the burnt flavor was distributed throughout the soup. Though it still tasted good and most people would not notice it, I tasted the difference.
Along with the broccoli and cheese soup, the committee also provided corn chowder, tortellini, chicken noodle, tomato, vegetable chili, and beef chili. The display was very colorful and flavorful. If we make soup again, I might consider pouring the soup into smaller containers to reheat to prevent burning.
In working with these different events, there always seems to be adjustments that can be tweaked to make our next gathering better. I really enjoy these event planning opportunities. Working with these ladies is fun, beneficial, and rewarding. As you plan your next event, gather with your friends and enjoy the planning process. Happy planning!
Question: What events are you planning? Please add your answer to the comments.