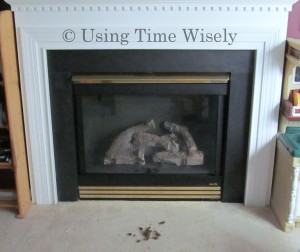 On this chilly rainy day, I dressed in a lightweight long-sleeved shirt and welcomed the changing weather pattern in front of our gas fireplace.
Though it's not here yet, my favorite season is autumn. In anticipation of falling leaves and pumpkin decorations, I replaced my summer candle with a pumpkin spice flavor to spark a new scent throughout our home.
Though we are not yet ready to turn on the fireplace, I noticed that the dust had built-up on our gas logs. As I took off the glass plate, I met cob webs and a thick layer of dust. In between a few sneezes, I wiped down the entire fireplace resulting in a pile of dust.
NOTE: My pilot light had been shut off. If you attempt cleaning your gas fireplace, turn off your pilot light before taking anything apart.
After a thorough cleaning of the inside and outside of the glass plate using Windex, I put the fireplace pieces back together.
Even with a deep spring cleaning each year, our fireplace had collected quite the dust. As we continue preparing our home for the changing temperatures, the current dust-free logs in our gas fireplace will warm our home while we wrap up in blankets all snuggled together. Did I mention that I love autumn? 😉 Happy fall preparations!
Question: Do you have any tips for cleaning a gas fireplace?