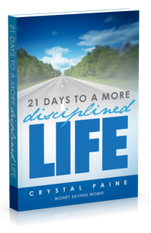 Crystal Paine, the author of The Money Saving Mom's Budget, has written another fantastic book.
While working through her published book, I have documented the highs and lows of setting, struggling, and reaching my goals.
As you know I am really struggling with my physical goals, specifically drinking water and exercising.
I know I need to make these goals a higher priority, but I lack discipline in this area.
Though I have some ideas of how to improve, I really need specifics which Crystal provides in 21 Days To A More Disciplined Life.
New e-Book Launch
Well, Crystal's new e-book, 21 Days To A More Disciplined Life, has arrived. Before you think, "Wow, if I read this book and follow it, then in 3 weeks, I'll be disciplined," read the title again – 21 Days to a More Disciplined Life.
You will not suddenly arrive at full on the discipline scale, but you will start the journey of establishing new habits and making small changes to reach your goal.
3-Day Sale
Today is the launch of 21 Days To A More Disciplined Life for only $.99 from Tuesday, October 23 to Thursday, October 25, 2012. On Friday, October 26, 2012, the price increases to $4.99.
Crystal is selling both a Kindle and a .pdf version. If you do not have a Kindle device, you can download the FREE Kindle App to read books on your iPad or PC.
At a 99¢ price, you are paying about 5¢ for each day of the 21 Days To A More Disciplined Life. This is a great sale for those who really struggle finishing what you start. I understand that interruptions come, but completing a project is the goal.
Don't delay. If you want this resource to using time wisely, then purchase it today before the price increases.
Giveaway
As a thank you for reviewing 21 Days To A More Disciplined Life, Crystal offered me a FREE copy, as well as 5 more copies to giveaway to my readers. 🙂
To enter the giveaway, you need to access the Rafflecopter widget embedded in this link. If you are reading via e-mail delivery or RSS feed, you will need to click on the title of this post. The link will direct you to the website where you will see the Rafflecopter entry form. Good luck!
Legal Disclaimer: No purchase necessary to win. Void where prohibited. Winner will be selected by Rafflecopter using Random.org and notified by email.
The winner will have 48 hours to respond before another winner is selected. Facebook is not affiliated with this giveaway and the act of liking a Facebook page is not required to win. Giveaway ends October 27, 2012.
Legal Disclosure: This post contains Using Time Wisely affiliate links. For more details, please read my disclosure policy.