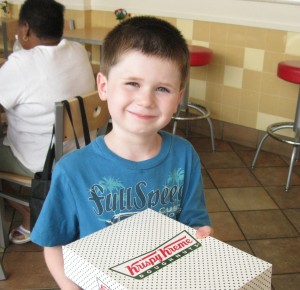 With the movement of paperless records, our school has moved from a paper version report card to an on-line accounting of the first quarter grades. Though the school name, student name, subject, and grades are listed, I am curious to know if businesses will accept this copy when granting rewards.
Two establishments we visit for good grade rewards are Krispy Kreme Doughnuts and Blockbuster. As we visit these establishments for rewards, I will keep you updated on Using Time Wisely's Facebook page regarding our success or failure in gaining the good grade rewards.
Krispy Kreme Doughnuts
For each "A", "E" (excellent), and "S" (satisfactory), the student will be able to choose one doughnut, up to 6 total doughnuts. Our Krispy Kreme stamps the report card at the time of redemption.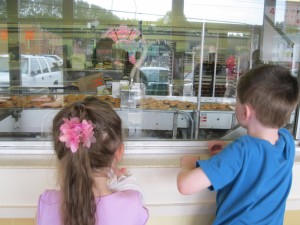 Last time our family visited Krispy Kreme, we arrived while the doughnuts were being made. My kids enjoyed watching the process through the glass windows. For more information on this program, consult Doughnuts for Good Grades.
Blockbuster
If your student has an "A" or "B" average, then he or she can choose a movie from the favorites collection, the older movies available for rental at Blockbuster. With the company change, you might want to check with your local store for any rule changes.
When we arrived with our fourth quarter grades in June, Blockbuster allowed our son to choose one movie for a one-day rental. We chose to use the free movie on a weekend when we would be driving past Blockbuster two days in a row. This way we were not making a special trip to drop off the movie.
For more information on this program and other good grade reward programs, check out free movie for good grades.
As my son does his best and earns good grades, I am thrilled to take him to Krispy Kreme Doughnuts and Blockbuster for additional rewards. In using time wisely, these rewards are a tangible expression of the hard work accomplished during the first quarter. Hope your little ones enjoy the reward programs offered by your local businesses. Enjoy the time with your family!
Question: What is your family's favorite good grades reward? Please add your answer to the comments.